Freelance to Freedom Crash Course
Little Known Strategy To Learn In Demand Skills & Close High-Ticket Clients As A Freelancer
WAIT ONE MOMENT: I just received an email from a satisfied FFCC buyer who's been applying my strategies …

TWO LEADS AND MULTIPLE RESPONSES
"A few days ago I was struggling to get responses to my cold emails…
I decided to contact Andy and see if he could help me out. I scheduled a consulting call and we got on the phone.
Andy told me EXACTLY what I was doing wrong and gave me the actionable advice I needed to take the next step--but wait, it gets better.
The following day, using his advice and I was able to get two leads and multiple responses from leading businesses within my niche.
And not only that, I now have confidence that by using the top-notch closing techniques within FFCC, I will easily close one of these leads.
So, if you are struggling to find clients, or even if you are just getting started, don't waste time like I did by following the wrong strategy…
Get your hands on FFCC and start implementing the right one!"
- Andrew Foronda
So, you tell me …
Will You Be The
Next Success Story?
What's up mate … as you can see from the testimonial above, the battle-tested strategy of getting freelance clients is easily duplicable… giving Andrew results in just 2 days.
Applying the step-by-step, secret process gets results INSTANTLY…it's that simple.
---
In fact, a buddy of mine called it "stupid simple"…
Here's what he had to say:
"Andy's stupid simple client acquisition framework helped me land a paying client in under 10 days"
- Joshua Tan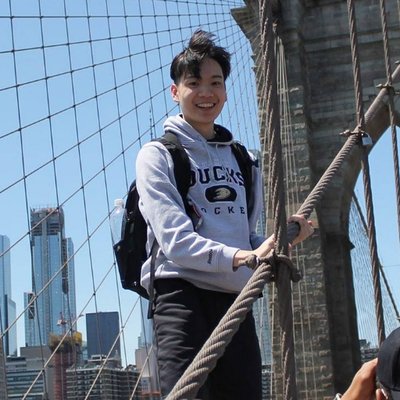 @jrtan_
Just picture how your life will be transformed
- once you are guided by a proven strategy...
Imagine pulling up to the best bar in town, whippin' your new luxury sports car—uh oh, there's a problem…its fully crowded except one VIP table in the corner…what to do???
Like a boss, you casually slip the doorman a $100 bill to be seated… because you can.
Even better, think of the relief as you leave the office that final time knowing you are making more money from your "side hustle" than your 9-5—not to mention waking up everyday whenever you want, wherever you want…with no boss to look for permission from.
That's freedom.
No more wasted time on get rich quick schemes, no more scammy Shopify screenshots...
Instead, you will spend your days building YOUR OWN empire of a business, and leaving your dead end job in the dust.
Whats up y'all, my name is Andy. I'm not some freelancing 'guru', frankly I have less than a year's experience under my belt. However, I've pieced together the puzzle of securing high-ticket freelance clients(as seen below)...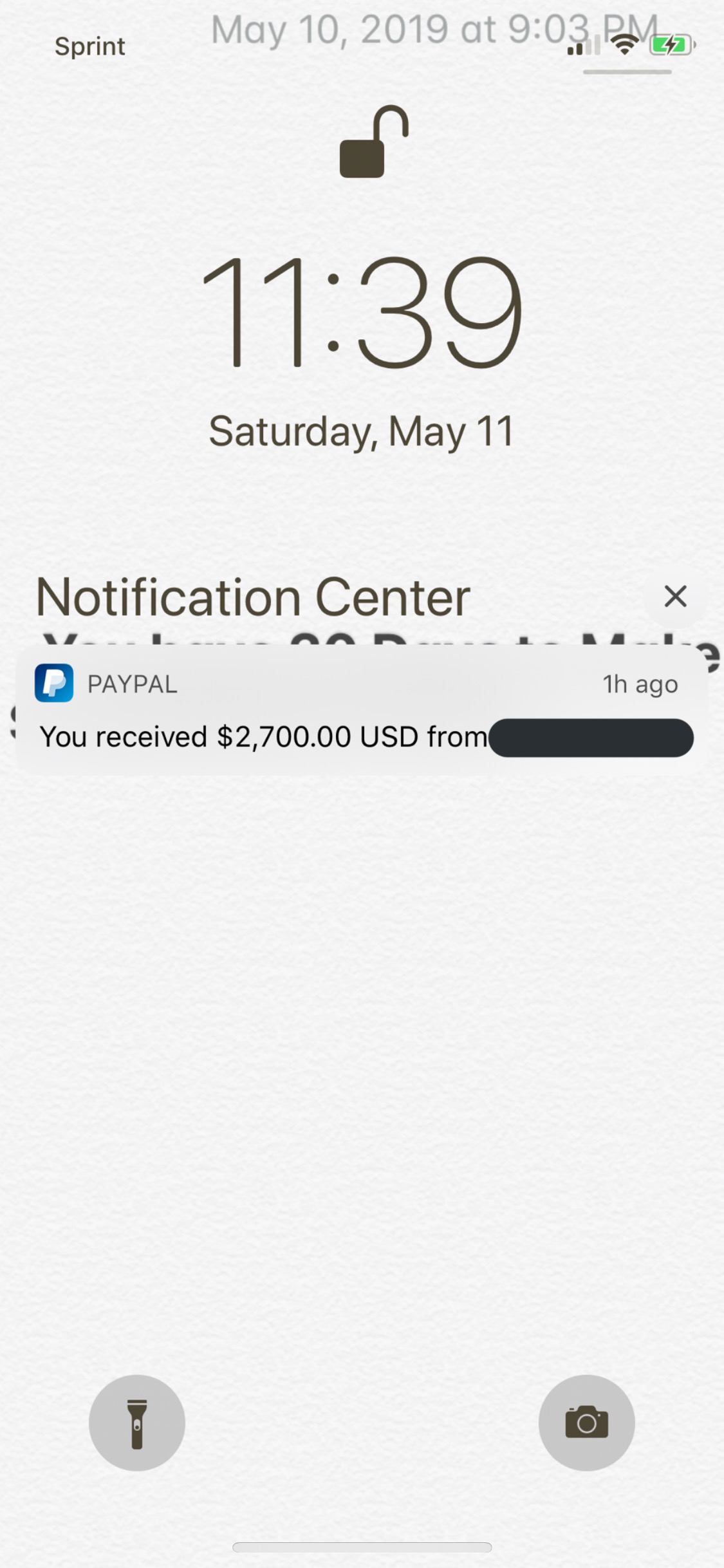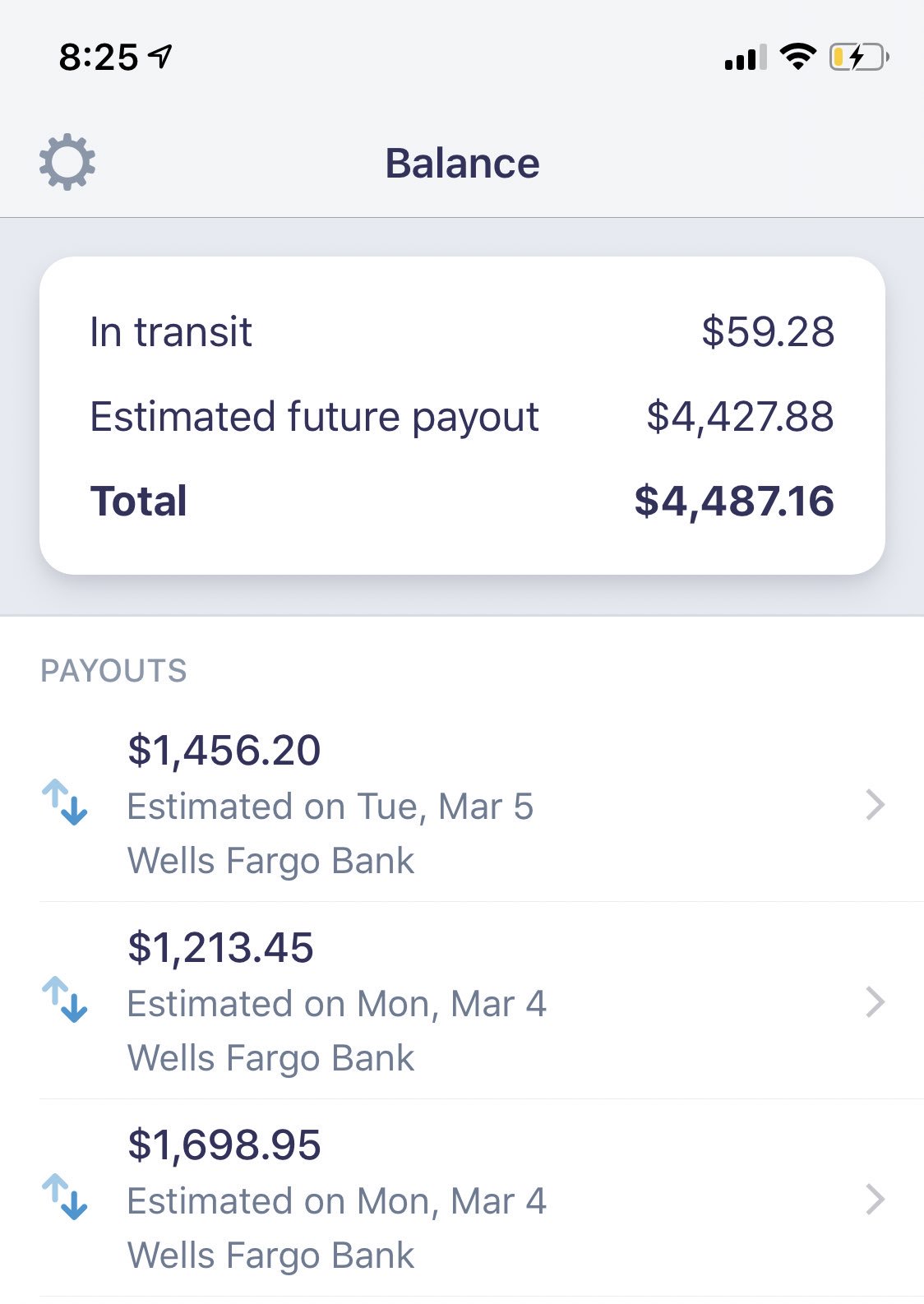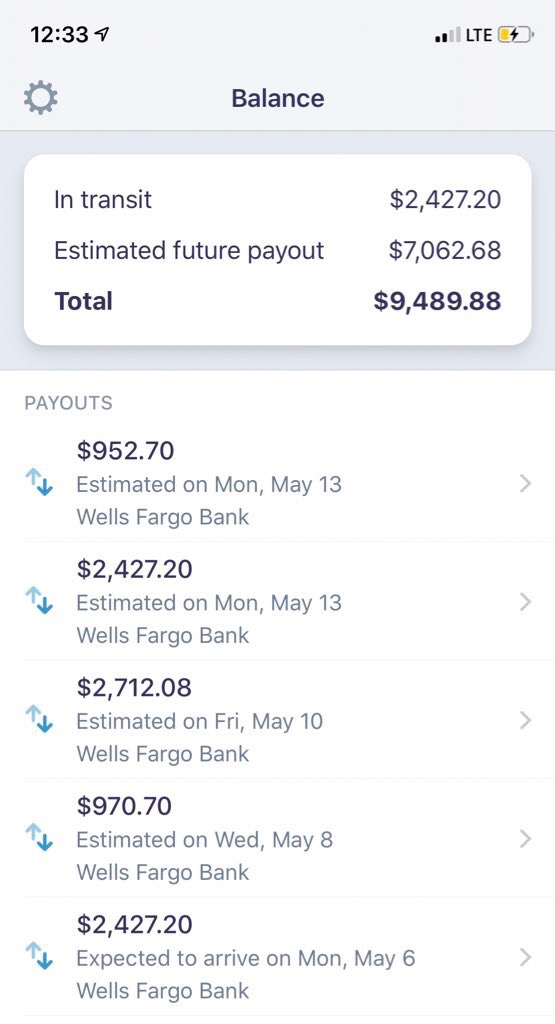 Back in the rougher times, I vowed to myself that if I ever figured out the ins and outs of this freelancing and online business thing, I would use my skillset to help others …
So, that is exactly what I've done.
A number of people hit me up in the DMs and Email, so I opened a lil' mini Beta group...
Test the waters & see IF my strategy REALLY worked...
& boy oh boy did it pan out well..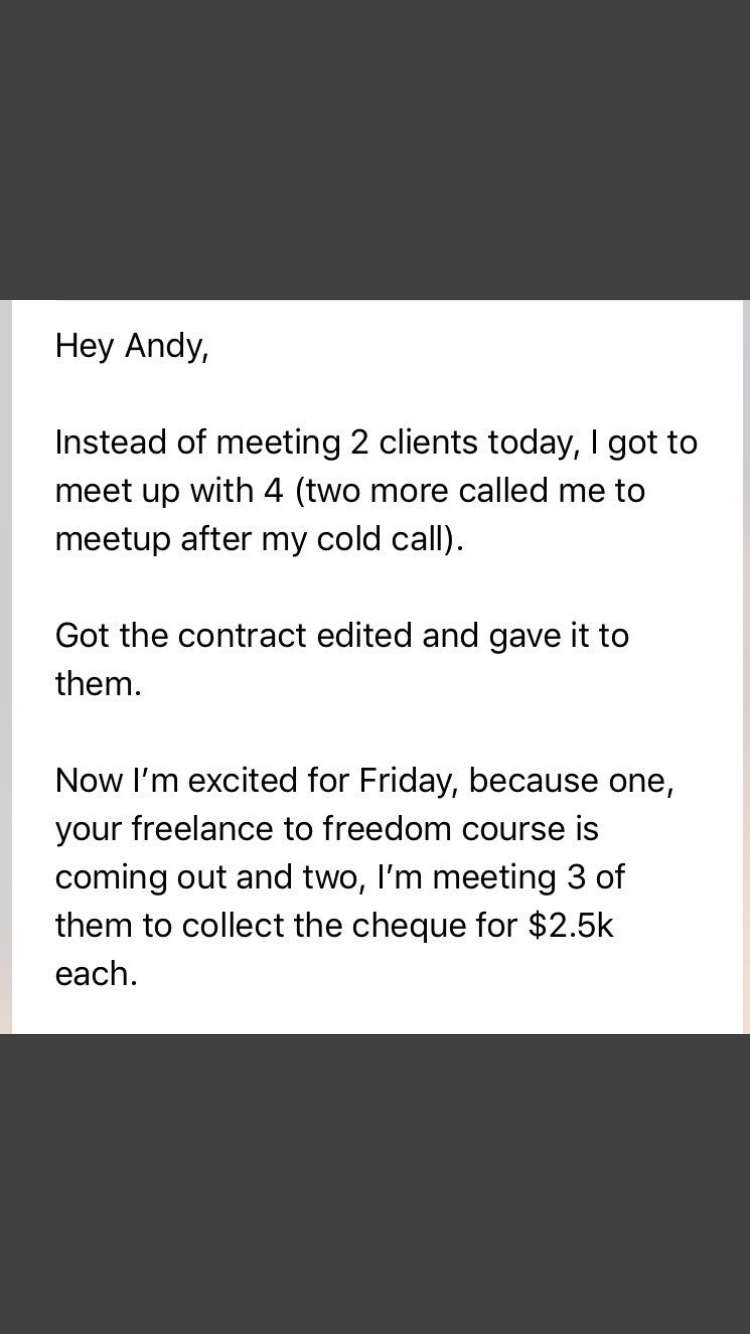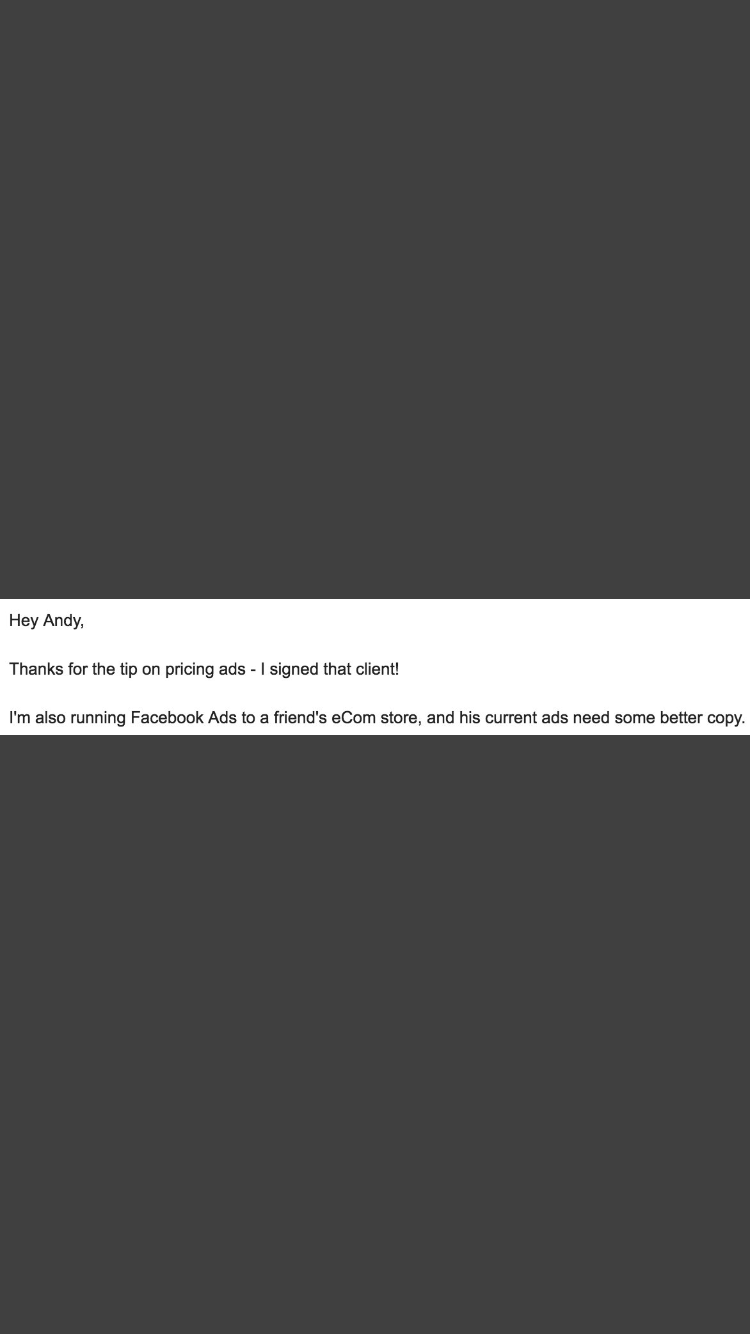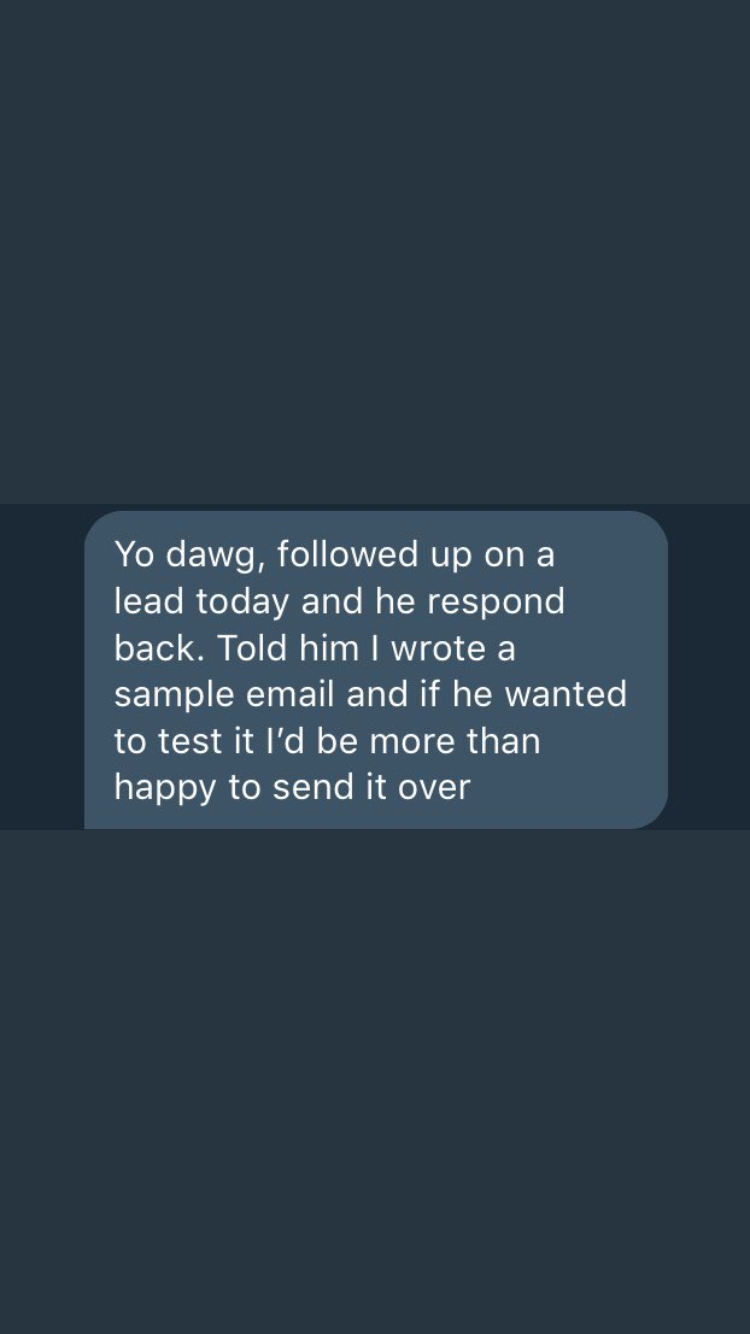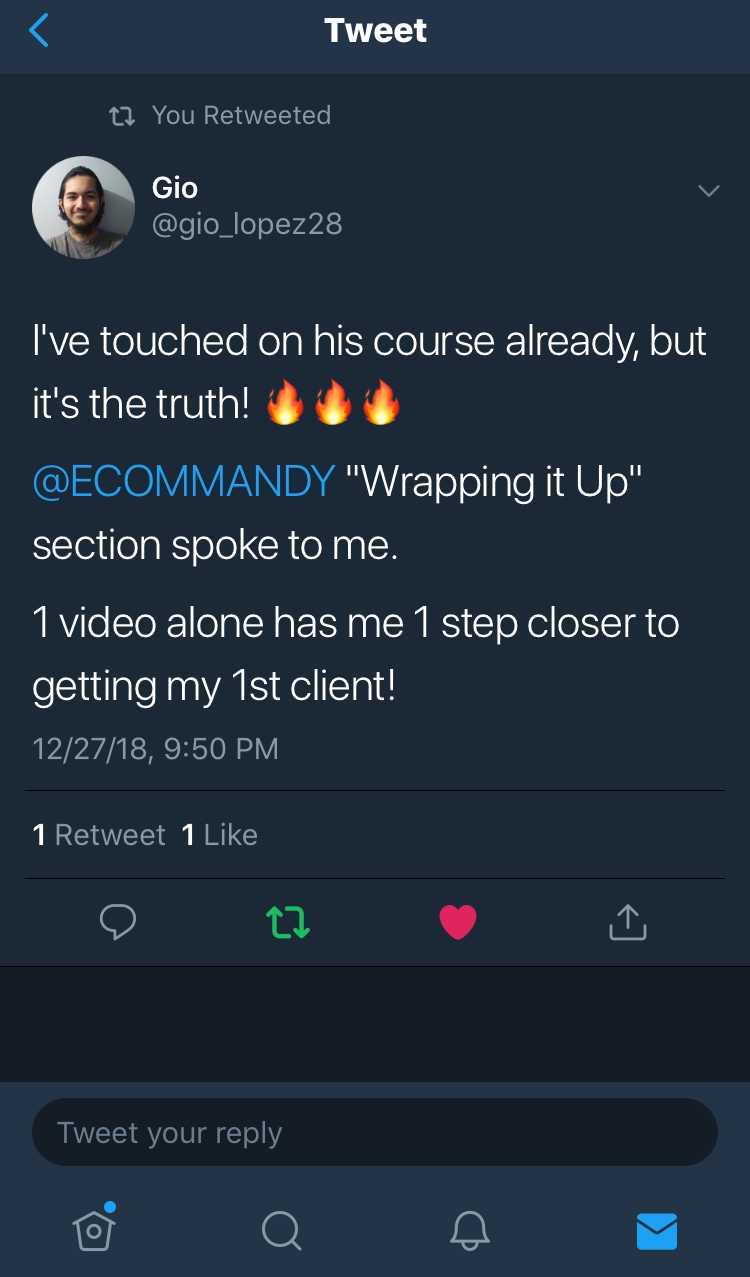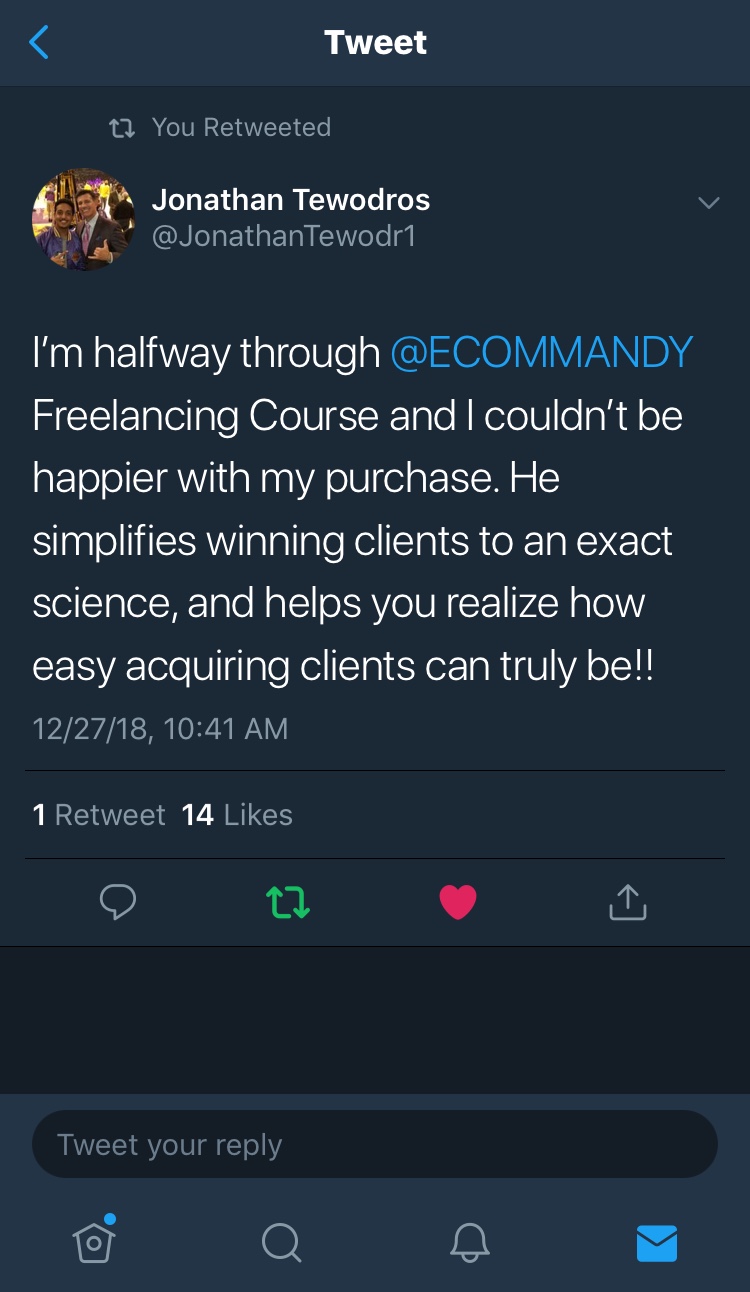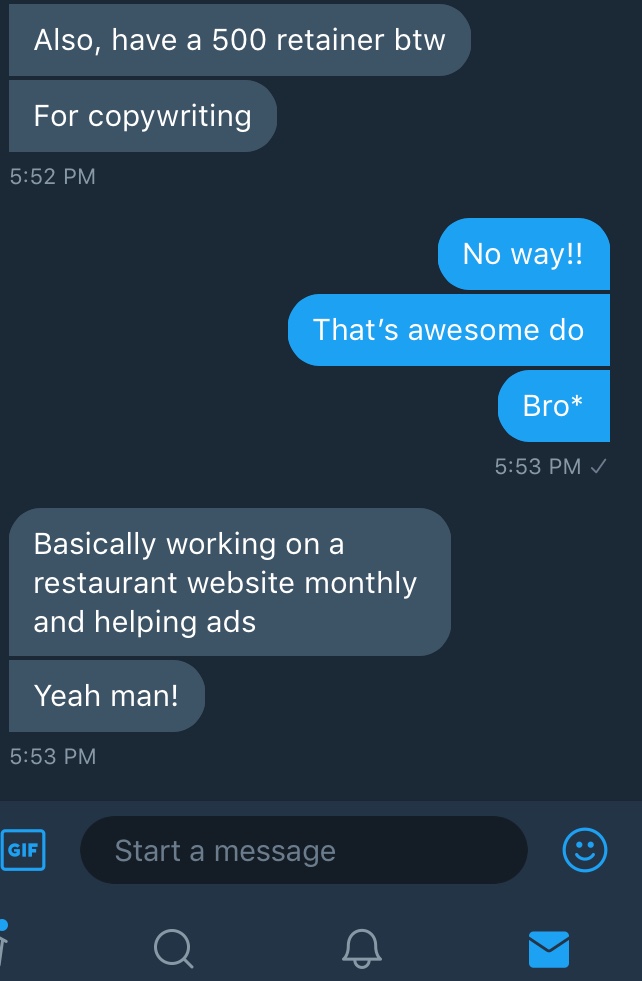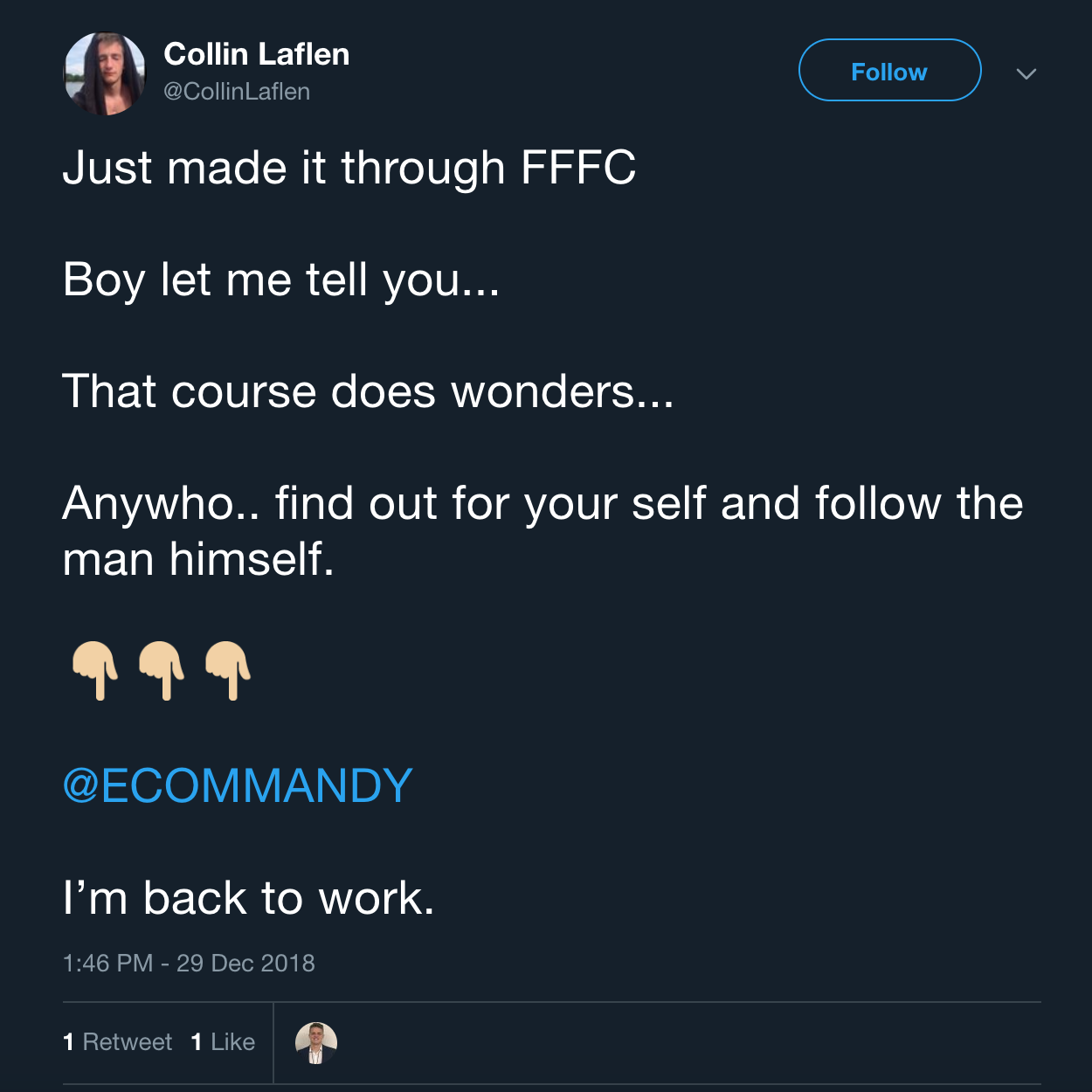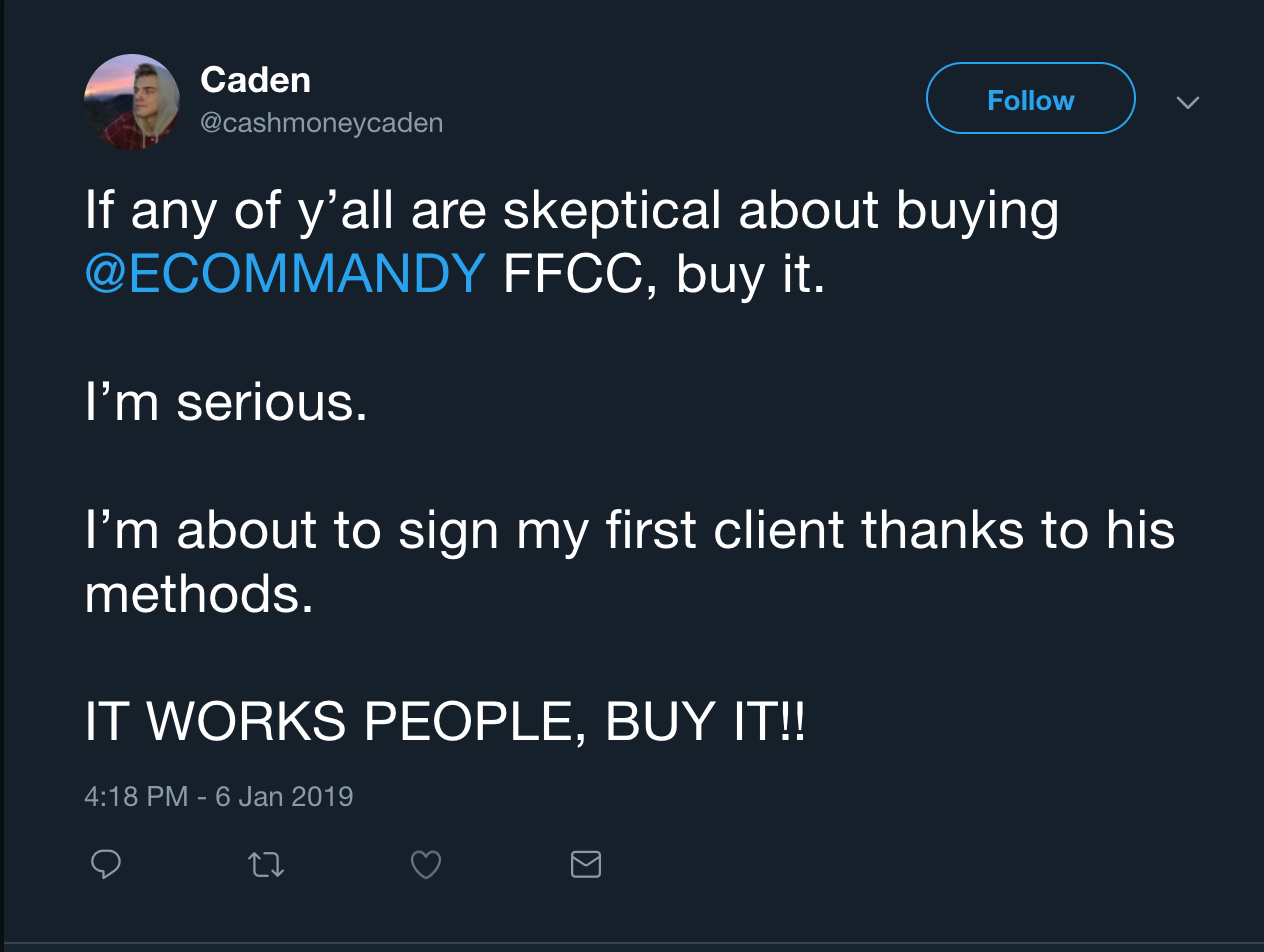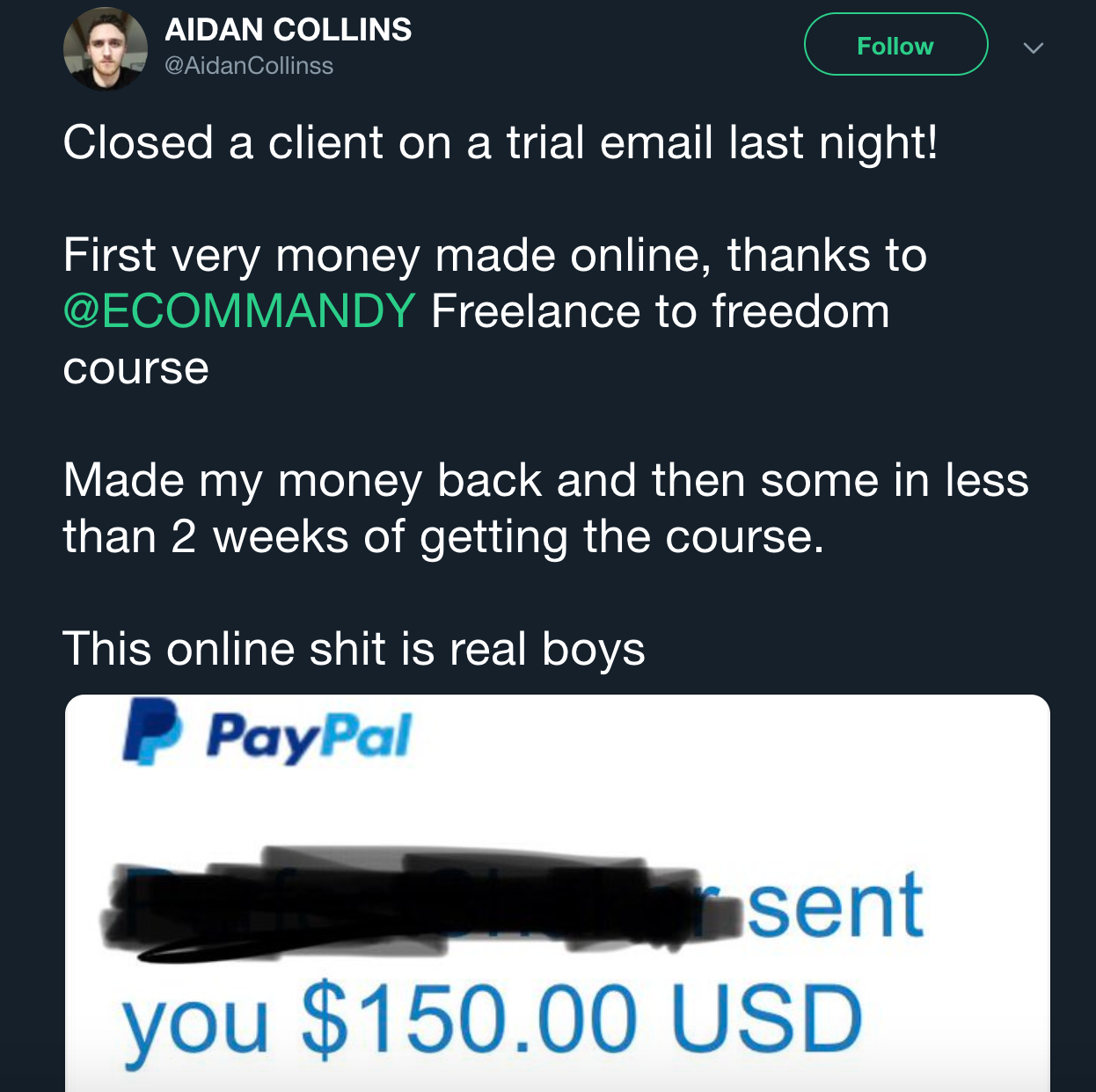 And from the actual mastermind group chat...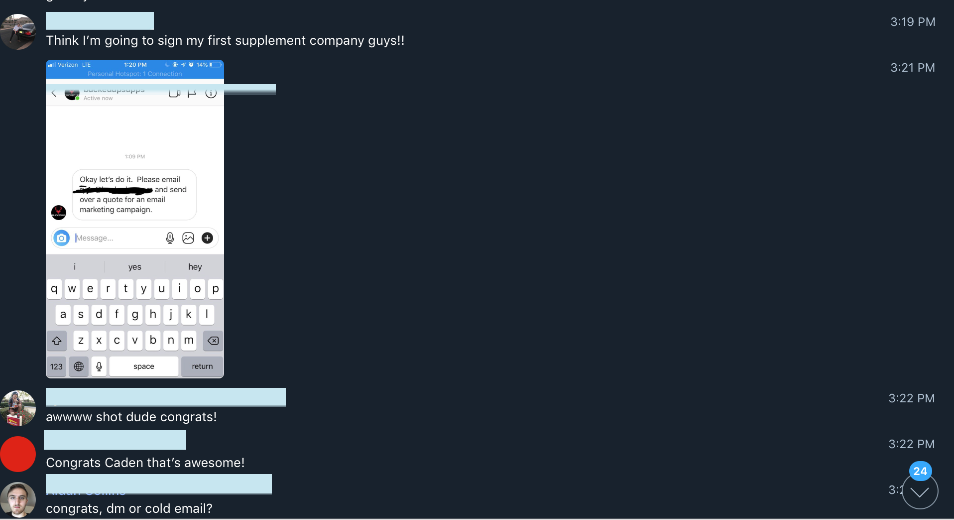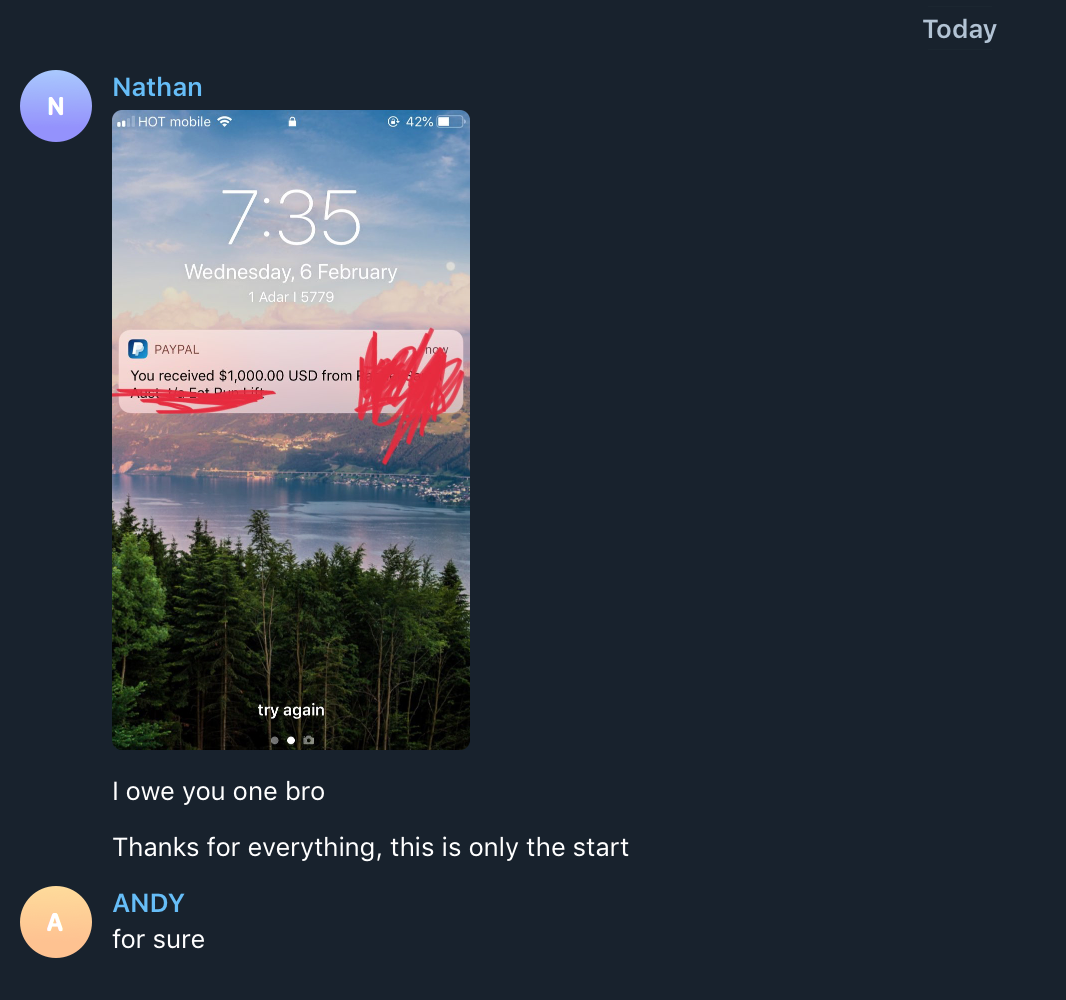 Yep.
They took FFCC outta my brain and into their daily tasks & the results were honestly amazing...
In FFCC, you'll get access to the exact formula I (and my Beta group) used to sign several clients to monthly retainers in less than 2 weeks…
You'll go through 18 sections packed with pure value which will get you ready to sign your very first client…FFCC style.
Not to mention, you'll be granted access to our exclusive FFCC Facebook Mastermind Group. A private page for the FFCC Family to come together and help each other through the process of snagging that client.
Also, you will be granted access to our FFCC Telegram private chatroom, where we are running giveaways, competitions, and helping each other succeed.
Of course, I'll be there giving 1-on-1 help as well. Just ask!
Oh, I almost forgot…
Get a load of this, an exclusive
look-in to the bonus sections
you'll enjoy from Day 1
THE way to send 1000s of cold emails a day in less than 1 hour
A live look-in to the EXACT templates you can use to generate endless leads
In-depth analysis on how to write emails that SELL at your price point
Video on the battle-tested strategy used to find clients that are willing to pay you $1000+ per month for your services
Think of Freelance to Freedom Crash Course as your go-to manual for how to go from zero experience to clients banging on your door!
Just so you know, in this manual we only serve up our secret sauce …
The recipe goes a little something like this,
High-level cold outreach methods that trigger the reader to 'force' them to respond and give you their precious attention
THE way to conduct in-depth market research to find high quality leads only, then use your knowledge to swerve around the lack of "experience" objection
High level psychological closing techniques to get what you want, how you want it, and most importantly—at your price, not theirs.
The ideal way to show professionalism and get the clients to hand over their precious dollhairs without a worry in the world
How-to generate cash flow from day 1 during your freelancing journey
The 3 part secret formula for learning how to sell yourself
Understanding the process of rejection and learning to love it, because it directly puts more moolah in your pocket
Not to mention the BRAND NEW guest bonuses:
The entire overview from the skill learning all the way to client closing process from a long-time successful freelancer that will prepare you to secure your first HIGH TICKET client

A 30 minute video on just how this Twitter 'guru' took his account from 500 followers to 5000 in 2 months and profiting over $4000 from freelancing while doing so
And so much more…
Yet, don't just take OUR word for it …
Read what some of FFCC's extremely satisfied freelancers have to say
"I'm not surprised by all the value that @ANDYCAV4 provided in this course.
The information in this product is not only tremendously valuable for beginners, but also for experts looking to re-sharpen their cold outreach skills.
As someone who's looking for their first client, I'm confident that I will get one within a few weeks & if you apply the info in this course, you will too.
Thanks a lot @ANDYCAV4!"
- Paul Domenick
@paulmdomenick
"Just finished going through @ANDYCAV4's FFCC for the 2nd time today & I can confidently say I have the step-by-step process of getting clients down to a T.
Excited to get my first few clients and start pulling in $3k+ a month from freelancing!"
- Justin C Scott
@iamjustincscott
This is one of THOSE days
You know what I'm talking about?
Most days are routine, normal—even… plain ol' boring.
Yet, then comes along a day or two of the year, with the power to absolutely change your life here on Earth.
These days, are similar to the days that you chose what your first car would be, or even who you'd be sleeping next to for the next fifty years …
Today, is one of those days.
You have a choice on your hands.
Continue on your lonely journey of trying to make money online…only to fail time and time again
OR …
Will you be intelligent enough to understand that for a small investment in yourself, you will be ahead of all your competition, uncovering new leads daily and closing deals left and right… which will ultimately take you exactly where you want to be: a newfound land of time and financial freedom.
If you ask me, it sounds like it's a total no-brainer.
If you want to make over $3k/mo in your underwear on your laptop
If you want to turn in that pink slip and work for yourself
If you want to gain real-life business experience
If you want to start a consistent, recurring online income
If you want to feel the exhilarating feeling of time and locational freedom
If you want to be free from your exhausting 9-5
If you want to prove all the naysayers and doubters wrong...
Then, wouldn't you agree that this is best choice you could possibly make?
That being said, I'd like to welcome you aboard the Freelance to Freedom Family and let's get this party started!
However, the price for FFCC WILL be going up very soon...clocks ticking.
So, click the big green enroll in course button to get started right now and make this reality YOURS.
Cheers,
Andy
P.S. One of my all time favorite hockey players Wayne Gretzky coined this awesome, meaningful saying:
"You miss 100% of the shots you don't take"
So, realistically, the only way you miss out here is if you don't take the shot, the investment in yourself and your financial future…one of true freedom.
I'll see ya inside mate!
Frequently Asked Questions
When does the course start and finish?
The course starts now and never ends! It is a completely self-paced online course - you decide when you start and when you finish.
How long do I have access to the course?
How does lifetime access sound? After enrolling, you have unlimited access to this course for as long as you like - across any and all devices you own.
What if I am unhappy with the course?
We would never want you to be unhappy! If you are unsatisfied with your purchase, please contact ECOMM ANDY via Twitter DMs or email at:
[email protected]
Because this is an info product, I am not willing to give refunds unless there is extreme, extraneous circumstances. If you apply the information (with proof) and cannot get a client within 90 days, we can talk refunds. Please keep that in mind before purchasing.